Announcement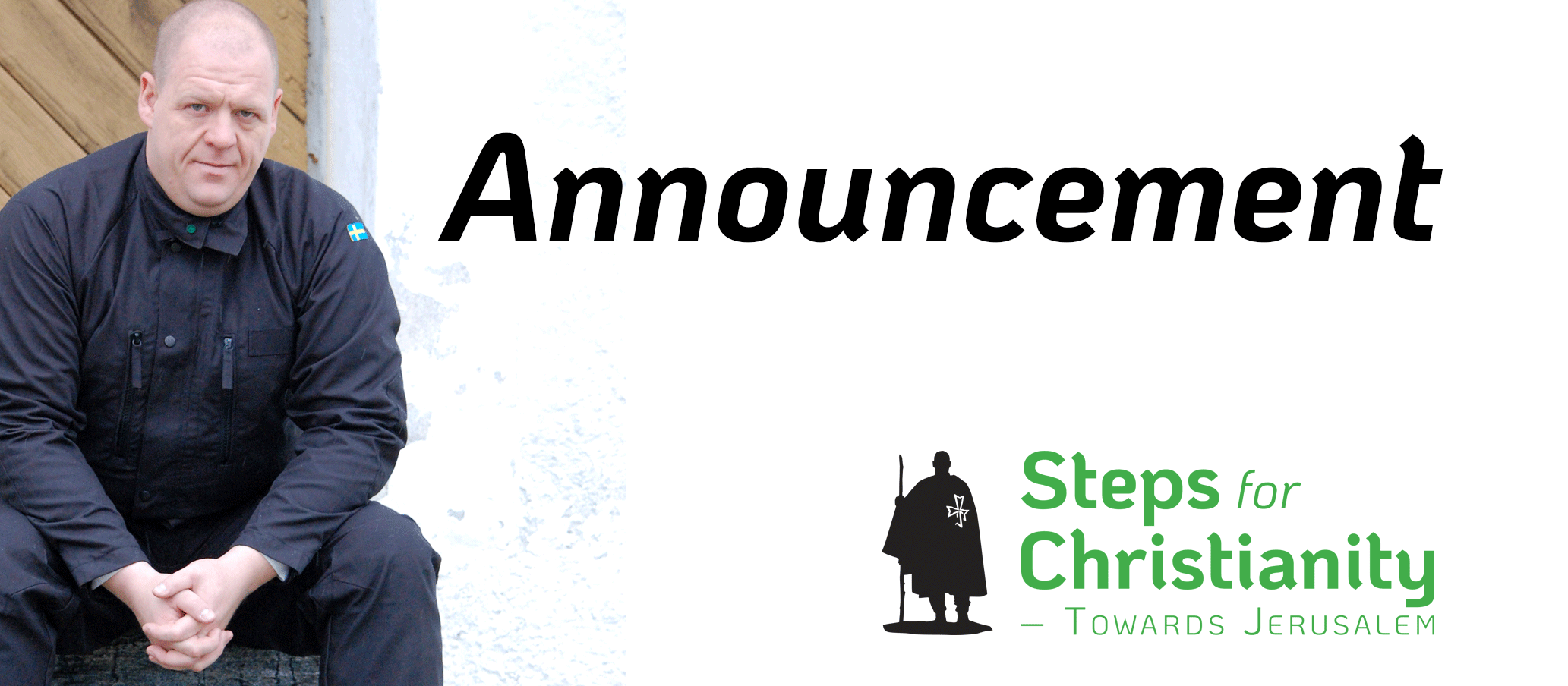 Thank you for your support for Steps for Christianity!
The project group has carefully been monitoring the situation in Europe and has reached the decision to postpone Steps for Christianity. Even if we now see travel restrictions being carefully lifted we deem the foreseeable future too uncertain to be able to complete the project and walk successfully.
The biggest challenge for the project is raising funds and, due to covid 19 restrictions all fund-raising seminars and such activities have had to be cancelled. This has had a detrimental effect on the main objective of the project; fund-raising.
We would like to emphasise that Steps for Christianity is NOT cancelled but postponed. When walking this kind of distance temperature is of utter importance. As the first stretch goes through central Europe with very warm summers it is very important that this leg of the walk is done during Autumn/Winter time, and therefore the walk is postponed to the Autumn of 2021.
We are very sorry that we had to come to this conclusion, but it is the only realistic and responsible decision we could make in the current situation. We hope that you support us in the postponement. All the funds raised so far remain in the project. Of course the possibility to continue to support Steps for Christianity is still available through donations via the web page www.TowardsJerusalem.org.
Again, thank you for your support for Steps for Christianity and its important purpose of helping Christians in the Holy Land!
/Jörgen K. Nilsson and the project team
Nedan på svenska:

Tack för ditt stöd för Steps for Christianity!
Efter intensivt överläggande med projektgruppen och dess samarbetspartners i de olika länder som vandringen ska gå genom har vi tyvärr kommit fram till att vi måste skjuta upp Steps for Christianity. Även om vi just nu ser lättnader i reserestriktionerna bedömer vi att läget för hösten och vintern är allt för osäkert för att framgångsrikt kunna genomföra projektet.
Den största utmaningen är att samla in pengar till de olika projekten i det heliga landet och detta arbete har på grund av coronapandemin avstannat då alla insamlingsmöten/föreläsningar under våren blev inställda.
Vi vill understryka att projektet INTE är inställt utan uppskjutet. För att vandra så långt är temperaturen a och o. Med hänsyn till att centraleuropa har ett inlandsklimat med varma somrar är det därför viktigt att just den delen av vandringen sker under höst/vinter och därmed skjuts Steps for Christianity upp till nästa (2021) höst.
Vi beklagar detta beslut, men vi finner detta det enda realistiska att göra i denna situation. Vi hoppas att du stödjer oss i detta beslut. Alla medel som hittills samlats in ligger kvar i projektet och flyttas fram till nästa vandringsstart och möjligheten att kontinuerligt donera till projektet finns naturligtvis kvar via hemsidan www.TowardsJerusalem.org.
Återigen tack för ditt stöd för Steps for Christianity och dess viktiga syfte – att hjälpa kristna i det heliga landet!
/Jörgen K. Nilsson och projektteamet