Support Online Christmas Market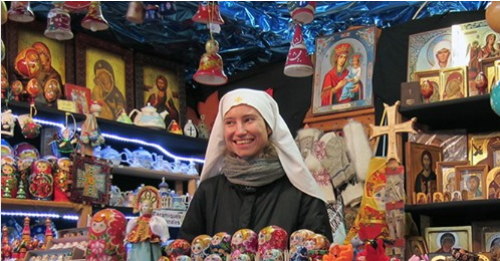 Online Christmas Market, Saint Elisabeth Convent, Belarus As we begin the Advent season, Steps for Christianity would like to encourage our supporters to consider support of one of our potential partner organizations along the pilgrimage trail. Saint Elisabeth Convent in Belarus, near Minsk is much more than an Orthodox Christian monastery – it is a center of social services and charitable works for the poor, sick, and infirm. Their mission is supported by their handicraft workshops, which provide both employment for locals and revenue for their mission work. While the Christmas markets that they normally attend across Europe are no longer possible, the convent is being pro-active by building up their online store. We are encouraging our supporters to put some of their Christmas shopping budget towards purchasing some of the beautiful handmade crafts from the convent, at the online Christmas market, including:
Traditional hand-painted Christmas ornaments

Wooden toys and souvenirs;

Santa Claus and Father Frost figures;

Handcrafted Christmas tree baubles;

Nativity scenes and sets;

Christmas themed ceramics and glass products;

Orthodox Nativity icons;

Russian matryoshka dolls, and much more.
Visit https://catalog.obitel-minsk.com/christmas-gifts/christmas-market-online.html and let the convent know that you are a supporter for Steps for Christianity. We will get to Saint Elisabeth Convent soon….but for now, let Saint Elisabeth Convent come to your home and family!